Post by Jason Conway on Nov 13, 2010 21:58:02 GMT
Welcome to Stargate: Meropis: a forum-based roleplay game set in the Stargate Universe. This short guide can be very useful to new player's and will get you rolling and joining in sooner than you can say, "open the wormhole".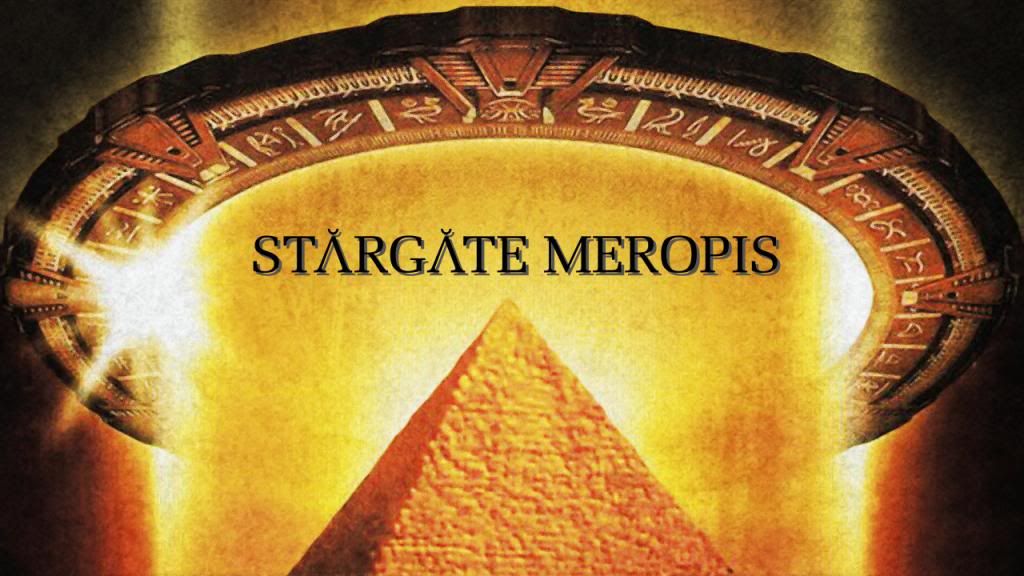 The Back Story
In mythology, Meropis was known as the sister city to Atlantis. It is a copy, a parody if you will, created by defiant members of an ancient race. Meropis had been discovered in the Atlantis database two years after the expedition set up their base in the Pegasus Galaxy.
The International Oversight Advisory gave the green light for an expedition to be launched in order to locate the second city, which the database hinted was lost deep in the Triangulum Galaxy, 3 millions light years from Earth. There was great hope of finding new technology to defend Earth in the face of threats such as the Ori, The Wraith or perhaps, cure human disease.
An expedition was put together, led by United States Air Force Brigadier General Jason Conway and they set off on Earth's newest ship, the Sun Tzu, on a five week hyperspace journey to the Triangulum Galaxy, following the co-ordinates the Ancient database suggests at which Meropis is located.
And so the mission begins, a mission of survival, exploration, technological advancement and most importantly, defending Earth from hostile threats.
How Stargate: Meropis Works
Stargate: Meropis is a forum based roleplaying game. Therefore the backbone of the site is
your
creative writing. Your character responds to events during the missions to move the story along.
Click here for tips on what makes a great post.
When you post, as you can see in the rules, you will need to include the time and location tag at the top. At the bottom you will need to <tag other players> like so. Once you get started, you'll get the hang of it - trust us!
Meropis is structured just like a TV series. During each episode here on the forum, each team/department is set a different mission to roleplay. For example, the episode brief will state that Base Personnel are dealing with an enemy attack situation. The episode brief will be released as an announcement, with a link clickable in the left hand sidebar, and you will be able to track the progress of the episode as it gets updated. You will have to work as a team to move the story along and achieve the goals, failure could result in character's being injured or killed and innocent NPC civilians dying! Admin staff may play enemy characters to hinder your progress.
When posting, try to make your posts at least a paragraph. Short posts do nothing for the story and make for quite a boring read. We don't want any two liners. Tips on making a longer post... Try to start each post describing what is around you, environment, people, weather etc. Try to avoid jumping right into dialogue, add thoughts and feelings too if you can. It doesn't matter if you can only scratch out ten line post or if you can pour into a wild fifty lines. Either way it should make a good post and, more importantly, good reading for the other roleplayers. Notes on description... It is good to have a well set-up background to the action, but no one wants to read a post purely describing a few trees down to each leaf, keep it interesting and relevant. For more head over here for tips on
what makes a really great post
(same link as above).
At the end of each "episode" or mission, the admin staff will close all the threads and tidy things up. We then hand out the appropriate awards, promotions and assignments across the board, giving you something to work toward and recognizing the great writers among us. The admin team have several NPC (non playable character) accounts to throw in twists and turns to each mission to further the story along. So watch out for the interesting "plot twists" and guest appearances... and have fun!

Useful Links
So you're thinking about joining Meropis We recommend these links, in this order, to get you started!
*
The Rules
- Be sure to read these first.
*
The Timeline
- This gives you a quick overview of what has happened so far.
*
Face Claim/Avatar List
- If you have a celebrity/character in mind to use as your avatar, please check to make sure it isn't already taken.
*
Positions Available
- If you don't mind where you are assigned, then carry on - but it certainly helps the admin team if we have a rough idea of where to put you. Take a look and see what we're looking for.
*
Top Posters
- A sort of hall of fame, something to reward our regular players with.
*
Zero Point Modules (ZPMs) and their locations
- These are a constant plot point through all of Stargate, find out what they are and where they are here.
*
The Story Behind the Mission
- Recap on the series of events that led up to the expedition being launched.
*
The City of Meropis
- Dr. Black put together an in-depth report on the city of Meropis and the planet surface within this file.
*
Triangulum Galaxy Stargates and Explored Planets
- A little information on the Stargates in Meropis' galaxy as well as the list of planets we have explored to date.
I've completed the forms and read everything, now what
* Members that join during an active episode will be assigned to base personnel. At the end of the episode we will review the teams/assignments and place you somewhere accordingly.
* Members that join between episodes may either be placed on base personnel or onto an assignment as chosen by them, depending on where we are in the "between episodes process".
* Sit back and wait for a member of the admin team to approve your profile, then you can get started! In the meantime why not visit the "Meropis Files" board and read up on some more interesting back story, or introduce yourself in the "General Discussion" forum.
*Please note, as of 1 May 2015, "Brevet" ranks will no longer be recognized. Use the rank structure given by your representative country's military. If you need help with this, please contact a staff member!